IX Forum, San Juan (Puerto Rico)
ASPC member
Address:
25 Yuen Wo Road, Fo Tan, Sha Tin, New Territories
Hong Kong Special Administrative Region - China
Best practices
Centre d'Alt Rendiment (C.A.R.) Sant Cugat
Canadian Sport Institute Calgary
News
Thursday, 29 January 2015
Tuesday, 18 November 2014
Thanks to the great contribution of Tacy Lamb, here we have again the Newsletter of the Fall.
Enjoy what we have done and what's next for 2015.
Forums
Thursday, 27 August 2015
to
Saturday, 29 August 2015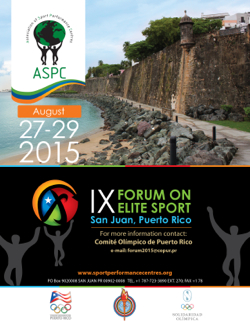 Tuesday, 27 August 2013
to
Friday, 30 August 2013
Organitzation of this event by:
Olympic Training Center - OTC Rio de Janeiro